In three first months, the country reported over 4,000 cases of chicken pox. Worse many of them were vaccinated against the disease before.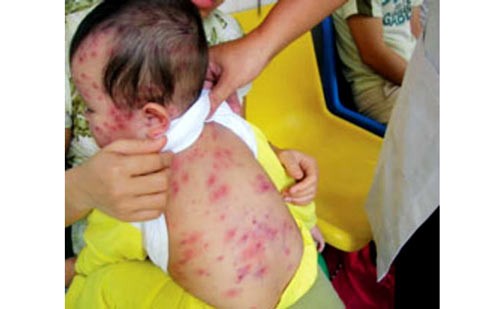 (Photo: SGGP)
The Department of Preventive Medicine under the Ministry of Health on April 1 said that in three first months of the year, there are over 4,000 cases of chicken pox across the country. The cities and provinces having most cases are Hanoi, the northern province of Thai Binh, Yen Bai, the central provinces of Nghe An, and the highlands provinces of Lam Dong and Kon Tum.
Compared to same period last year, the chicken pox cases have decreased by 70 percent yet head of the Department of Preventive Medicine Dr. Tran Dac Phu fretted that despite decreased number in the cases, infections are higher than recorded cases as infected children are usually kept at home for isolation.
He warned a possible leap of the disease as it often spread in the spring winter. The disease is transmitted through fluids in the blisters in arms, feet. Sick people will feel tiredness, headache, fever, running noses, sore throat and rashes in heads, eyes and body. It is dangerous if pregnant women get chicken pox as it can cause miscarriage or complications for the unborn baby.
Worse, many parents reported that their children were vaccinated yet kids still have the disease, Dr. Phu said that 10 percent of children who develop severe complications from chickenpox disease have compromised immune systems or other health problems.