The Ho Chi Minh City Department of Health said it has found a further 12 students and three teachers with swine flu at Ngo Thoi Nhiem private high school in District 9, bringing the number of victims there to 21.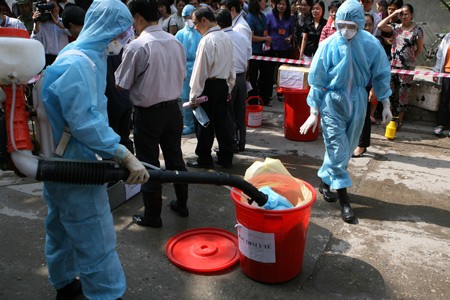 Health workers disinfect Ngo Thoi Nhiem private high school in HCMC's District 9 where 21 students and teachers have been found with swine flu
The latest victims had been in close contact with an afflicted student, it said, a resident of a village in Dong Nai Province's Xuan Loc District which the city-based Pasteur Institute said July 18 has the largest number of patients.
All the latest victims at the school have been admitted to Pham Ngoc Thach hospital for treatment.
Due to the wide spread of the disease, especially at schools, the DoH convened a meeting July 19 with officials from the Ministry of Health, Pasteur Institute, and the Department of Education and Training to discuss emergency measures against the disease. The participants suggested setting up a makeshift hospital at the school.
Authorities have cordoned off the school, stationed ambulances to transport infected people to hospital, and set up a hotline and quarantine ward.
Medical workers are monitoring 900 students at their houses and have given 21 teachers and students Tamiflu pills.
The school has been closed for a week to ten days.
The MoH announced 31 more cases of the flu, all from the south, taking the country's tally to 383. But the patients have been treated, with most recovering quickly and no deaths reported so far.
So far, 299 of them have been discharged from hospitals while the other 84 are in stable condition.


The European Centre of Disease Prevention and Control said as of July 18, the flu virus had infected 130,733 people in 139 countries and territories, killing 702.