The Quy Hoa National Leprosy Dermatology Hospital in the central province of Binh Dinh has cured 12 patients  suffering from an undiagnosed skin disease that causes ulcers on hands, feet, mouth, back and abdomen, said Dr. Nguyen Thanh Tan, director of the hospital on Sunday.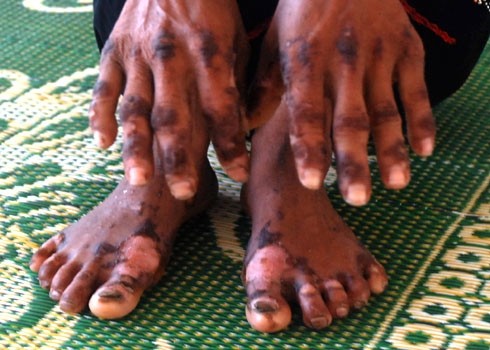 A patient with skin ulcers all over his hands and feet ( Photo: Tuoi tre)
Ten patients were discharged from the hospital and two of them will return home in a few days.
Within the last four months, the hospital had received 12 patients, who were transferred from hospitals in the central province of Quang Ngai.
Most of them were in poor health and suffering from skin ulcers on their hands, feet, mouth, back and abdomen as well as liver and heart disorder.
Doctors prescribed medicines to help their bodies eliminate contaminants, as well as doses of vitamin B, Zn supplements and suitable ointments.
By the end of 2011, Ba To District in the central province of Quang Ngai had many people suffering from this strange skin disease. A mission team from the Ministry of Health arrived in the province to study the cause, concluding that patients had been contaminated from farm pesticides.
The Department of Health in Quang Ngai said 98 people, including 25 children, have suffered from the skin disease, with some succumbing to it. 
Among the 12 discharged patients, 20 year-old Pham Thi An was taken to the hospital in severe condition.
Her organs had all failed and she suffered a heart attack. Her husband and mother-in-law were cured, but her 4-year-old son died of the disease after 10 days of treatment in the General Hospital in Da Nang City.