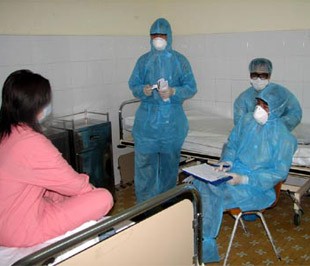 Medical workers treat an A/H1N1 flu patient in Vietnam
123 people who contracted the A/H1N1 flu have been treated and discharged from hospitals around the country, the Ministry of Health said.
Health authorities announced on July 5 that 11 more people tested positive for swine flu, taking the number of cases in Vietnam to 226, 196 of them in the south and 21 in the north.
Of the 11 new cases, nine are in the south. The Ministry is closely monitoring seven of the new patients.
One hundred and three people are being treated in hospitals and are in stable condition. No deaths have been reported in the country yet.
Due to fears swine flu could spread among the wider community, the Ministry continues to warn about passengers coming from pandemic zones.
Those with symptoms like fever, cough, and sore throat should go to the nearest medical establishments, it said, and people should avoid travel to affected nations.