The Gang Thep Hospital in the northern province of Thai Nguyen December 30 said that it will soon perform an operation with the help of their counterpart in Viet Duc Hosptial in Hanoi to take out the scissor in patient's stomach.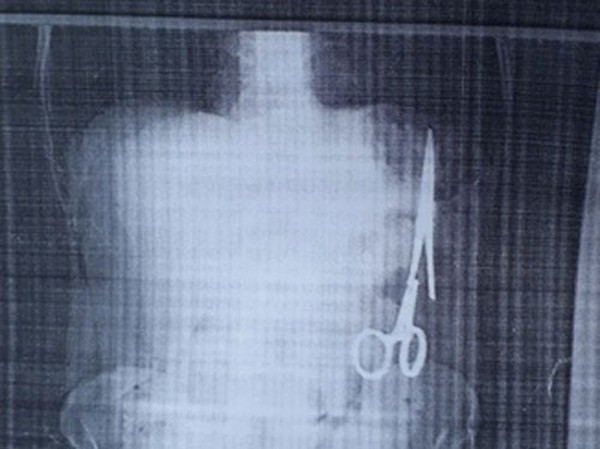 The scissors left in the man's belly (Photo: SGGP)
Before, 54 year old Ma Van Nhat in Thai Nguyen Province's Cho Don District arrived in the hospital complaining of his pains in belly, doctors decided to send him for an X-ray. The X-ray of his abdomen showed a pair of scissors almost 15 cm long had been left inside him.
Nhat told that he had a traffic accident in 1998 and he was rushed to the General Hospital in Bac Kan and since then, he suffered pain in his belly in one or two days and stopped. His daily activities have been taking place normally; therefore, he did not go to hospital for a check-up.
Right after hearing about the case, the Department of Medical Examination and Treatment under the Ministry of Health ordered the Province's Department of Health to write report as well as liaise with the patient to ensure his right and verify responsibilities of individuals and teams in the case. The report must be sent back to the Ministry before January 6.