The World Health Organization (WHO) and the Italian Medical Society Carlo Urbani have signed a memorandum on co-operation and assistance in treatment of parasitic diseases for around 1.9 million Vietnamese children in the next two years. Under the signed deal, Carlo Urbani will support Viet Nam with EUR130,000 in total.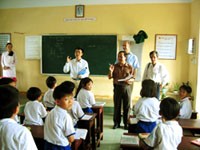 Doctors explain about helminthiasis to children in Quang Nam

The number of parasite-infected people in the world reaches 300 million, half of whom are school pupils. In Viet Nam, around 55 million people, making up 68% of its population, are infected with helminthiasis. The diseases cause malnutrition, ill resistance against other contagious maladies and bad school ability.

However, these diseases can be treated with two doses of menbendazole, a domestically-produced low-price medicine.

Carlo Urbani (October 19, 1956 – March 29, 2003) was an Italian physician and the first to identify severe acute respiratory syndrome (SARS) as a new disease. Urbani was the president of the Italian chapter of Médecins Sans Frontières and was one of the individuals who received the 1999 Nobel Peace Prize on behalf of that organization.
Urbani received his doctorate of medicine from the University of Ancona. He was employed by the World Health Organization and was based in Ha Noi, Viet Nam, where he mainly worked on combating parasitic diseases. After he had identified an outbreak of the previously unknown SARS among Vietnamese hospital workers in late February 2003, Urbani apparently became infected himself. He traveled to a conference in Bangkok, Thailand on March 11 and fell ill there. He died in Bangkok of the disease at the age of 46.