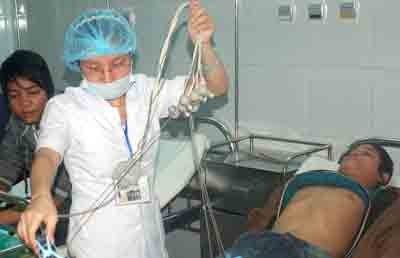 A medical worker treating an infected patient at Da Nang Hospital (Photo: SGGP)
21 gold miners from the Phuoc Minh gold mine in the central province of Quang Nam were rushed to Da Nang Hospital on Wednesday after their health began to deteriorate with many suffering from swollen bodies.
The miners suddenly experienced sudden dizziness, vomiting and swelling of their bodies three days ago.

They were taken to the medical center in Que Son District for emergency treatment but the doctors there failed to diagnose the ailment.
They were transferred to Da Nang Hospital on Wednesday where doctors diagnosed cyanide poisoning. (Gold cyanidation is a metallurgical technique for extracting gold from low-grade ore by converting the gold into a water soluble compound).
The affected workers admitted that they had used cyanide a few days ago.