Festival "Giot hong tri an" ((Pink Drops of Appreciation) themed "Each heart- Each fire" was held in the National Convention Center in Hanoi on July 31.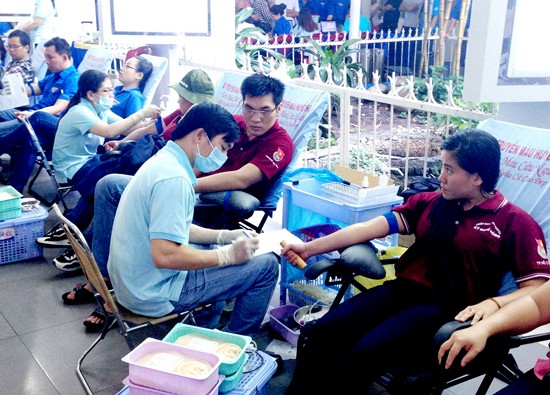 Young people voluntarily donate their blood in the campaign (Photo: SGGP)
The festival is also to close the 2016 Red Campaign launched by the Vietnam's National Institute of Hematology and Blood Transfusion (NIHBT), an annual month-long event to promote blood donation. The campaign, first organized in 2013, is an initiative of NIHBT.

NIHBT Director Professor cum head of the Red Campaign Nguyen Anh Tri said that during last month from July 1 to 31, the campaign went through 27 cities and provinces across the country to carry out the mission of calling for blood donation.

The campaign spread the information of voluntary blood donation to save patients and raise awareness of the blood disorder, Thalassemia in Vietnam at over 500,000 people. 27 blood donation festivals have been organized in 27 cities and province with the participation of thousands of people.

After one month, the campaign has collected over 23,390 blood units (a unit of blood is equal to 250ml) including 2,295 blood units collected in Hanoi. The blood donation not only contributes to treatment task in local hospitals in summer season but also hospitals in the country, said Professor Nguyen Anh Tri.

On the same day, the National Red Cross Society along with the Red Cross Society in the central province of Ha Tinh and Steering Board for Charitable Examination and Treatment provided free medical check-up and health-care consultation to over 1,000 people from low-income families, disadvantaged households, welfare top brackets and fishermen in Ky Dong, Ky Khang, Ky Phu Communes those suffered losses from sea pollution.
Additionally, the Central Red Cross Society also handed over 340 gifts each worth VND500,000 to local residents.