The general hospital in the northern province of Quang Ninh said that they saved a man who swallowed 27 nails.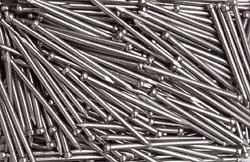 Such 27 nails stay in a man's belly for two years and he was saved by doctors at the general hospital in Quang Ninh province
The victim, Chu Van Truong, 26, experienced stomachache and was diagnosed with gastric haemorrhage.

Doctors discovered something in his belly when taking an X-ray, so they performed surgery and took out 27 nails each 3 cm long.
The nails had been in his belly for two years, but he refused to explain why they can stay there.

The patient recovered after the operation.