A 3-month-old boy in the highlands province of Dak Nong died on September 3 after being vaccinated with the 5-in-1 vaccine Quinvaxem.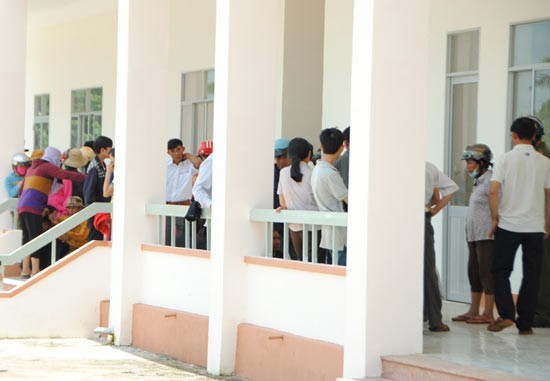 Relatives of the dead baby gather in the clinics asking to verify the cause of the death (Photo: SGGP)
Police in the highlands province of Dak Nong yesterday said that they were liaising with other related agencies to carry out autopsy on 3 month old Nguyen Duc Hieu in Nam Son village in Nam Xuan commune of Krong No District.
 
The boy was taken by his mother Tran Thi Quy, 18, to the commune's medical clinic for vaccination following a notice of the station on September 3.
After vaccination, doctors kept the baby in the clinic approximately 40 minutes and then allowed parents to take him home.
At home, he was still normal. However, at 4 PM on the same day, he was crying a lot, breastfed less and had breathing problem.
 
As the boy's condition got worse, his parents brought him back to the clinic again at 6 PM yet there was no medical worker there. Accordingly, the boy was taken to the General Hospital in the district and he died on the way to the hospital.
 
Supposing that the baby's death was caused by medical staffs' mistakes and neglected behavior, ten relatives of the infant took the body to the clinic, asking to verify the case. Police officers soon arrived at the clinic to keep order and told the baby's relatives to keep calm, saying that police would investigate causes of the death and there would be harsh penalty on medical workers who made mistake to cause the death.
 
The baby's relatives agreed for an autopsy to be performed on the boy to find out the real cause of the death.
 
Talking with the press, a leader of the Department of Health in Dak Nong Province said that on the day, 20 babies had been injected with Quinvaxem vaccine at the health station in Nam Xuan Commune and they have been in good condition. Baby Hieu was kept 40 minutes at the station after vaccination as per the regulation and he was normal so doctors allowed his mother to take him home.
 
The Department of Health in Dak Nong Province sent experts to the health station in Nam Xuan Commune to seal the vaccine lot and work with police to verify the cause.
 
Quinvaxem is meant to prevent five common, potentially fatal childhood diseases: diphtheria (D), tetanus (T), pertussis (P, whooping cough), hepatitis B (HepB), and haemophilus influenza type B (Hib).