The Ministry of Health in Vietnam announced on September 4 that the hand-foot-mouth disease is showing no signs of abating and continues to claim lives, though it still declines to officially declare an epidemic.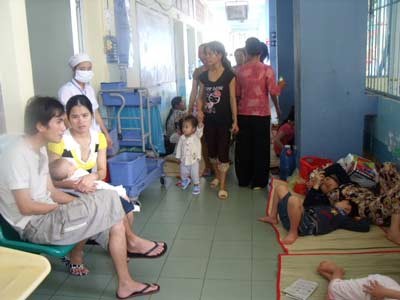 Parents and HFM affected children rampant in Children Hospitals
Since the beginning of the year, over 38,600 people have been affected, 86 of whom succumbed to the disease, in 19 provinces across the country.
Despite this frighteningly high rate of affected patients and deaths, the Department of Preventive Medicine still insists the disease is under control and the ministry refuses to officially announce a hand-foot-mouth epidemic.
Medical experts fret the situation could worsen in the coming months. The ministry has hence established an anti-HFMD steering committee to monitor the spread of the disease in all the major cities across the country.
In addition, the ministry has ordered the department of health to adopt more effective plans to curb the spread of the disease, focus on raising people's awareness of the disease and ensure better hygiene practices, as reducing the number of affected patients has become imperative.