Surgeons of Oncology Hospital in Ho Chi Minh City have successfully removed a 40kg cyst from the ovary of a cancer patient, Dr. Le Hong Minh, director of the hospital announced on October 18.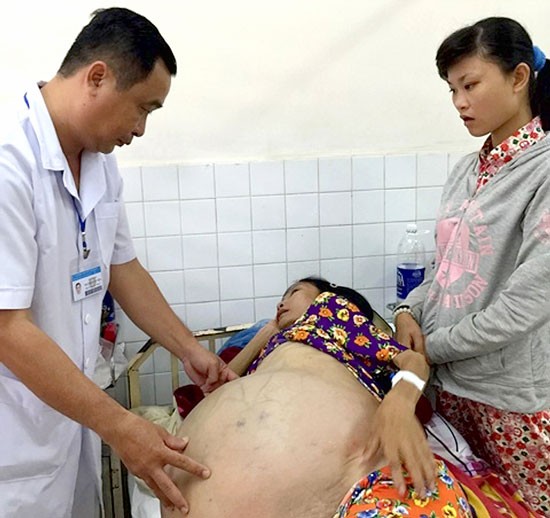 A doctor examines the woman's condition before the operation (Photo; SGGP)
Doctors performed a surgery on Pham Thi Tuyet M., 49, of the Mekong delta province of Long An said, she was in a stable condition after the surgery.
The tumor has the size of 60 x 80 x 100cm with the weight of 40 kilogram including the skin of the cyst weighing about 2kg and 35 liters of fluid and three liters of blood.
It has been the largest ovarian tumor that doctors of the hospital have ever removed.

The tumor developed from a small one but because the woman and her family could not afford surgery, she had lived with the huge cyst for nearly 10 years. Doctors decided to perform the operation on M. as the huge cyst was pressing against multiple organs and made it hard for the patient to breathe.

Dr. Le Hoang Minh said that the hospital covered the fee of the operation and expense related to the treatment. The most importance of the operation is that doctors released the woman from painfulness which she had to endure for 10 years because her limited financial budget.

Worse, through testing the woman has ovarian cancer; accordingly doctors decided to cut her womb off and other parts. Tuyet will remain at the hospital pending chemotherapy for her ovarian cancer.