The Ministry of Health August 15 announced 54 new cases of A/H1N1 nationwide, raising the total number of cases to 1,417, including two deaths.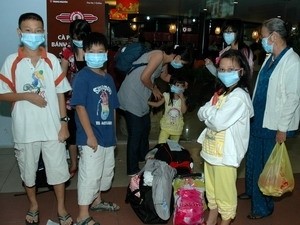 The Ministry of Health warms that people should wear masks when in public places
The new cases include 34 infections in Southern provinces, four in the North, eight in the Central region and eight in the Central Highlands.
Of the total number of patients with swine flu, 1,050 have recovered and been discharged, with the remaining 365 in quarantine.
Dr Truong Quoc Cuong, director of the ministry's Drug Administration of Vietnam (ADV) said the ADV will consider importing more medicines to treat A/H1N1 flu for children.
He also said besides reserving and importing more Tamiflu, the ADV also asked some drug companies to import Zanamivir, which can also be used to treat A/H1N1 in the event there is resistance to Tamiflu.