Viet Nam has about 150,000 new cancer patients, and more than 75,000 people die of cancer each year, Deputy Minister of Health Phạm Lê Tuấn said at a conference on the issue in Ha Noi Tuesday.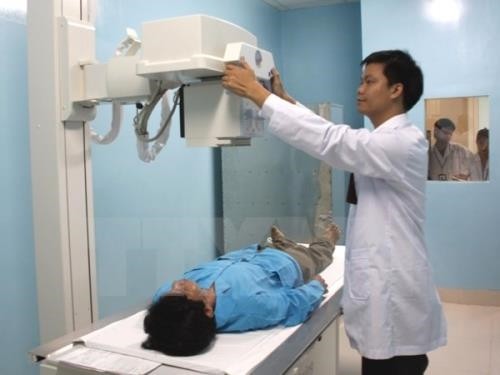 A patient gets cancer check-up at hospital. Việt Nam has about 150,000 new cancer patients, and more than 75,000 people die of cancer each year. — VNA/VNS Photo
Cancer is one of the 10 most critical diseases in Việt Nam, according to the latest national survey on disease burden.
Globally, about 14.1 million people are diagnosed with cancer each year, and about 8.2 million people die from the disease annually, Tuấn said.
Tuấn said the conference aims to share information and experiences on cancer treatment to help patients access affordable, effective treatment.
Reports at the conference revealed that the most common types of cancer among men include lung, stomach, liver, colon and rectal cancer. The most common types of cancer among women include breast, colon, rectal, lung, liver, leukemia and cervical cancer.
The national strategy on cancer prevention for 2011-15 provided cancer screenings for early discovery to 532,000 people.
The rate of breast cancer discovery was 63.7/100,000 women. The rate of cervical cancer discovery was 22.6/100,000 women. And the rate of oral cancer was 15/100,000 people.
High-technologicy treatment is conducted only in central hospitals, or patients must travel to foreign countries, health experts said.
Nguyễn Minh Thảo, deputy director of the Việt Nam Social Insurance, said expenses for cancer treatment have become too high, and they are only increasing more and more.
Expenses for cancer patients in 2014 cost more than VNĐ3.8 trillion (US$170.3 million), and last year cost VNĐ4.4 trillion (US$197.3 million).
Việt Nam's fund for cancer was limited, while the prices for cancer medicine are high. Several patients spent a billion đồng but still died, said Thảo.
So it is necessary to closely manage cancer diagnosis and treatment, he said.
Phạm Xuân Dũng, deputy director of the HCM City Oncology Hospital, said the Ministry of Health should regularly check cancer testing and diagnosing centres to manage their quality.
The HCM City Oncology Hospital has nearly 20 doctors. To conduct accurate diagnoses, each of them need 7-10 years of training.
"Thus, although we have modern machines, doctors' quality is very important," he said