About 80-90% of eggs were under the microscope, said an officer from the Ho Chi Minh City Department of Animal Health.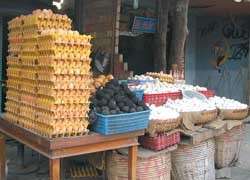 Some eggs are not tested due to illegal transportation
From February 9-16, the department had tested nearly 27 million eggs for traces of Bird Flu and Sudan, a cancer-causing colorant.  On February 12 alone, 3.9 million eggs were tested.
Huynh Huu Loi, head of the Department of Animal Health in HCMC, said that the tested eggs were distributed to shops and stands around the city.
However, about 10% of eggs were free from testing because they were illegally transported into the city by dishonest traders.
Consumers, therefore, should use only those eggs that are sold in packaging bearing a company name.
Last time, concerns were raised when news that some eggs contained a cancer-causing colorant called sudan, was released into the media.
Although people have not stopped eating eggs, there are still concerns as to whether or not the eggs are really free from disease and harmful contaminants.
Huynh Huu Loi advises against eating omelet's, as the eggs in omelets are not cooked through fully and therefore there is a greater risk of them carrying disease.
He added that supermarkets have requested that the egg companies check their products before they are allowed to enter the supermarkets; thus, eggs sold in supermarkets have been tested and are safe for consumption.

The department said that they will carry out more comprehensive tests soon.