In 2001, a Japanese man came to HCM City Office of the Sponsored Association for Poor Patients to volunteer his help. He introduced himself as Murase Takao, a dentist. The Association assigned him to remote areas, where there were numerous poor patients: the suburban districts of Go Vap, Tan Phu, An Nhon Tay commune of Cu Chi district, HCM City, and Dat Cuoc commune of Tan Uyen district in Binh Duong province.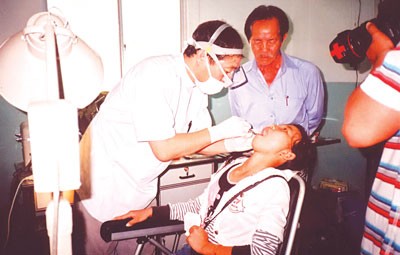 Murase is examines a street child in the southern province of Ben Tre (Photo:SGGP)
He did not hide his interest and emotions when listening to stories of honest farmers adapting themselves to the hard life and being resilient in the wars. Such deep impressions from his trips made him content with his charitable decision.
Formerly, DR Takao worked in Javdo (Japan voluntary dental organization) to help other countries, including Vietnam. This organization mostly provides aid in schools. To him, pupils are taken care of by the government and public health department.
Taking care of people in remote areas, in contrast, means lots of difficulties as well as a lack of medicine. Therefore, he left Javdo and came to the Association and asked to be assigned to remote areas in Vietnam. Mrs. Do Thi Nguyen, the chairwoman of Nhan Ai branch of the Association, took him to the southern and south-eastern provinces, where there were still areas with traces of wars.
Images of good-natured, simple farmers splattered with mud, working in half-wild fields gave him strong feelings as well as concerns. Wanting to work better, he taught himself Vietnamese during his trips around Vietnam. A Vietnamese-Japanese dictionary was always with him in case of free time. He said, "I want to express my thinking directly to Vietnamese people, who are simple, pure, and so close to nature."
He comes to Vietnam three times every year. In the first few years, he himself took care of the fees using his own salary and his mother's support. The sum for some equipment, medicines, and chemicals for dental treatment came to around US$10000 each time. It was his compassion and medical ethics that helped him overcome obstacles from his family.
Mrs. Do Thi Nguyen told us that his wife and children wondered what in Vietnam could attract him so much. He confided, "One day my wife will understand."
It came when his daughter attended a prestigious literature competition and wrote about her father with sincere feelings about his charity work in Vietnam.
A real surprise came when the essay took first prize. Takao took his daughter to the awards ceremony in Tokyo. There he delivered a speech on Vietnam and Vietnamese people, as well as the reason why he wanted to do charity in this country. Consequently, many organizations and large corporations such, as Japan Bank, Toshiba, and Sony asked him to guide them in a visit to Vietnam.
Seeing his work and the close contact between him and the government, as well as poor people here, they were touched and created a fund to establish a charitable organization, with Dr. Murase as chairman.
The organization has a plan for five years, under his control, to sponsor dental equipment, chemicals and medicines plus direct treatment of patients in remote areas.
Till now, the plan has been carried out for three years. Poor people, especially dental patients, from the places he has visited all talk about him with great affection and respect.
Dr.Tran Van Quang, vice-chairman of Ben Tre sponsored association for poor patients commented, "Takao is an expert dentist and a kind soul, always dedicated to his work till the end. Whenever he sees another person with the same mind, he becomes very excited and supports them to the best of his abilities. We truly love him!"