This is the talk between SGGP reporter and Director of Cho Ray Hospital Truong Van Viet

SGGP reporter: Doctors are free to do something which does not break the law, for example they can open their private surgeries if they follow the law. What reason do the hospital management interfere with their personal business?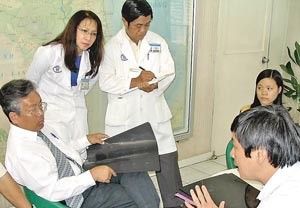 Dr.Truong Van Viet(1st,L) with doctors in their discuss over a case
Director Truong Van Viet: It is legal for doctors to open their private surgeries under a licence to practise as a doctor, meeting patients' requirements and improving doctors' living standards. However, Cho Ray Hospital is the central hospital; all doctors are overloaded with work under pressure and heavy responsibility for the task.
When treating a difficult case which requires a lot of time, doctors might not be as committed to it because the opening time starts and patients are awaiting them at their private surgeries. As a result, there are cases where surgeons have hurriedly carried out the operation and told the younger doctors to take over it so that they can go back their private surgeries in time.
Is treatment quality in doctors' private surgeries insured by the authority? In reality, some doctors operate outside their areas of expertise or sell medicines without a description, or some have advised patients to have unnecessary medical tests. Worse, some doctors do not invest enough in suitable equipment.
The managements have thus decided not to permit doctors of the hospital to open their office at home. Instead, the hospital will open on-site surgeries outside working hours and doctors can practice their profession under strict management of the hospital managements, with all the modern equipment available; treatment quality is thus insured and patients feel secure. In addition, doctors can avoid occupational hazards in this profession and their earning is guaranteed. Moreover, the hospital can protect its reputation.
After a whole day working in hospital, do you think that tending to patients at home in their own time would give doctors more time to be with their family or play with the children?

The welfare of the patients, I think, should be top priority. As a doctor, he must be committed to his profession. In working hours, doctors are under strict control and provided with the best conditions and equipments to serve the patients. The managements do thus not accept the sight that hospital doctors both examine patients and bath their children at the same time.
Once they are still doctors of Cho Ray Hospital they must adhere to the codes of conducts by the hospital during and outside working hours.
When will the after business surgeries start?

Cho Ray Hospital's outside-working-hour surgery has so far opened on Saturday every week. Upon the new policy, it will be opened every afternoon. Some doctors have registered to work at hospital surgeries outside working hours. We will make the announcement to the public when it commences.