Some 5,000 - 6,000 patients suffering chronic kidney disease need a kidney transplant, according to a report by the Ministry of Health.
Due to a lack of donated kidneys, currently around 1,600 people in Ha Noi who must undergo transplant surgery are in a desperate state.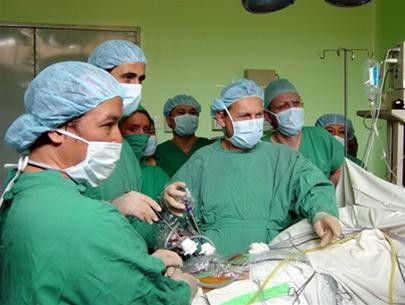 A kidney transplant carried out at People's Hospital 115 in HCMC (Photo:TTO)
There is a severe shortage of donated organs including kidneys, livers and tissues, according to the ministry's Therapeutic Department.
Most donated kidneys are from living related donors of recipients such as a parent, sibling, or child.
To date, about 200 kidney transplants and ten bone marrow and liver transplant operations have been carried out in the country.
The Health Strategy and Policy Institute has conducted a survey which reveals that most Vietnamese support the donation of human tissue, yet only 15 percent give their relatives approval to donate their organs.
Fifty percent are not willing to allow the organ of a dead relative to be donated due to religious practices and psychological issues. Happily, 40 percent have agreed to donate their organs after death.
The Ministry of Health has allowed 11 hospitals nationwide to carry out human organ transplant operations. They include Ha Noi-based Bach Mai, Viet Duc, Vietnam National Hospital of Pediatrics, Ha Tay-based Army Medical Institute, Kien Giang General Hospital, Children Hospital I and II, Cho Ray, Binh Dan and General Hospital in the central province of Thua Thien – Hue.
In addition, some tissue banks can receive human tissue from legal medical establishments.
Dr. Ly Ngoc Kinh of Therapeutic Department said that the professional skills of Vietnamese surgeons are as good as those of their counterparts elsewhere in the region.
The ministry expects that by 2020 Viet Nam will transplant 1,000 kidneys, 80-100 livers, 20-30 hearts, 10-15 lungs and about 2,000 corneas.