The government has consistently given pharmaceutical issues top priority within its development agenda. However, access to essential medicines, especially for the poor has not yet become a reality. Ways to improve the situation were discussed at a meeting held on June 23 in Hanoi titled: "Strengthen the capability of accessing essential medicines."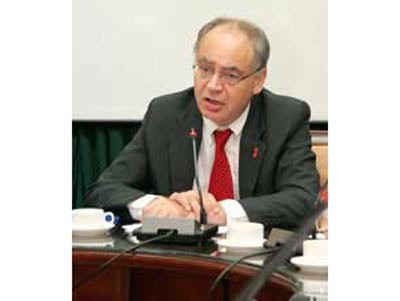 Dr. Jean-Marc Olivé, WHO Representative in Vietnam
The meeting was co-ordinated by the Vietnamese Ministry of Health and the World Health Organization (WHO).
Dr. Jean-Marc Olivé, WHO Representative in Vietnam, said increasing access to pharmaceuticals has been a major facet of significant government policies, such as the Social Economic Development Plan, and is one of the pillars of the five-year National Health Plan.
WHO recognize the government's programs for essential medicines, especially the keen attention given to the implementation of quality programs and good practices for the manufacturers, distribution and supply of medicines.
The question that you may raise is simple – there are more than 20,000 pharmaceutical products registered in the market – but why do we say that people, especially the poor, cannot access the medicines they need? Dr. Olivé added.
The WHO representative pointed out that the prices of medicines are high and people cannot afford them. Recent comparative data shows that medicines in Vietnam, which are used to treat diseases with the highest burden, are priced higher than they are listed on the international reference index.
Dr. Olivé stressed that the poor do not have adequate resources to buy them. A study done in 2008 on the treatment of diabetes showed that people insulin costs patients an average of US$17 a month (US$204 per year). 
Medicines are also continually over-prescribed and used irrationally, wasting both government and the patient's resources, said Dr. Olivé. When the government spends much of its budget paying for expensive medicines, resources are lost, and less people are served. On the other hand, irrational usage and sale of antibiotics, often without prescription, risks the occurrence of antimicrobial resistance, which will make treatment of infectious diseases more difficult and more expensive.
Dr. Truong Quoc Cuong, chief of the Vietnam Drug Administration, said that the total payment for medications in Vietnam last year was up to US$1.5 trillion, an increase of 19 percent. An average person spends US$19.77 on drugs yearly. Profits from drugs produced domestically reached US$831 million in 2009.
Mr. Cuong said more pharmaceutical firms in the country have strengthened production, but few of them manufactured specific drugs for new diseases.
Dr. Olivé prescribed that concerted action be taken to overcome the barriers to access. It is time that Vietnam and WHO think of different approaches and reassess our programs and policies to make sure that they meet the fundamental public health objective of ensuring access to safe, quality-assured, affordable medicines.
He advised the Vietnamese government to consider developing a comprehensive policy for generic medicines and ensure universal coverage for health that makes provisions for the poor. He proposed that medicines for children and mothers should be made available at all times in health communes and in public health facilities.
At the same time, prescription and use of essential medicines should be monitored and that inappropriate incentives in the selection and procurement of medicines should be eliminated, he stressed.
Dr Nguyen Quoc Trieu, Minister of Health, promised to rearrange the index of essential medications that home enterprises can manufacture and concentrate on producing important materials, including antibiotics, as well as to adopt measures that would stabilize the price for drugs not yet produced in Vietnam.