Ministry of Health on Dec 6 launched the 'Action Month for Food Safety' in Hanoi, scheduled to start from January 10 to February 12, aimed to reduce the number of food poisoning cases by 10 percent compared to the same period last year.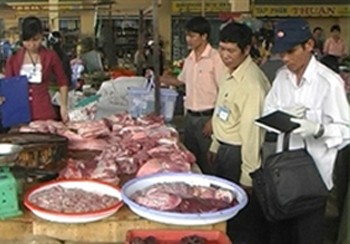 (file photo)
Deputy Prime Minister Nguyen Thien Nhan was speaking on the occasion, saying that food safety was of particular concern during the Tet holiday season.
The Deputy PM also said that inspections would be stepped up during the 'Action Month for Food Safety', with strict penalties on those found violating food hygiene and safety regulations. 
The media should also step up awareness for consumers, manufacturers and traders, in order to change old and bad traditional habits, he added.
He also said that the ministry should collaborate with other relevant ministries and sectors to increase inspections, deal with violations, and most importantly, make everyone aware of the new food safety laws.
According to the Department of Food Hygiene and Safety under the Ministry of Health, rainy wet weather up in the north is one of the reasons why food items can develop fungus, while hot weather down south rots food faster, especially meat items.
The department also warned consumers to be careful of buying food items with no proper markings, instead carefully select items that have been certified.
A similar event was also launched in Ho Chi Minh City yesterday. During the entire 'Action Month for Food Safety', HCMC authorities will strengthen propaganda on hygiene and food safety, as well as provide a deeper understanding of the processing methods of several food items.
Over past years, the city has implemented measures to reduce food poisoning and transmission of diseases through food items by setting up many safe models for livestock breeding and aqua-culture and promoting safe cultivation practices, said Hua Ngoc Thuan, Vice Chairman of the municipal People's Committee.
Last year the number of food poisoning cases reduced by more than 38 percent compared to 2010.
Pham Viet Thanh, head of the Health Department, said inspectors had checked 32,585 food manufacturing facilities and found 1,463 cases of violations last year, and recovered nearly VND5 billion (US$238,000) in penalties.