The Asian Development Bank (ADB) announced Nov. 10 it is financing a project with a US$72 million loan to improve health care services in Vietnam's south central coast region.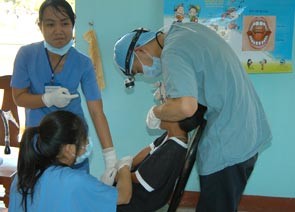 Health care is an area in Vietnam that ADB is supporting (Photo: Khanh Van)
The project covers Da Nang City and the seven provinces of Quang Nam, Quang Ngai, Binh Dinh, Phu Yen, Khanh Hoa, Ninh Thuan, and Binh Thuan.
The 32-year loan will be sourced from ADB's Special Funds, the bank said. Vietnamese government will provide an additional $8 million to complete the financing requirements.
In addition to improving overall health services for the poor, the project will target health care for women, children, and ethnic minorities, with a special focus on reproductive health care.
"Given current trends, the country can only achieve its Millennium Development Goals by 2015 if it makes a considerable effort to improve the quality of care and financial access for the poor and ethnic minorities in lagging communities with high mortality, morbidity, and malnutrition rates," Vincent de Wit, principal health specialist in ADB's Southeast Asia Department, said in Monday's ADB announcement.
The project will help build or upgrade 20 hospitals, five district-level preventive medicine centers, and a training school for nurses and paramedics. It will also equip new and existing facilities with quality water, sanitation, and medical waste management systems.
Support will be given to the hiring and training of medical staff and village health workers, and for improvements in basic health care for 423 remote communes, as well as for the development of well-managed, and better-used provincial health systems.
The ADB project will be followed by a national sector development program in 2009 which is currently under preparation.
The World Bank is funding a similar project in the north central coastal region.