Which medical waste can be recycled and which cannot was the main topic of discussion at a recent meeting of the Health Ministry, the Environmental Police Bureau, and the ministries of Science and Technology, and of Natural Resources and Environment.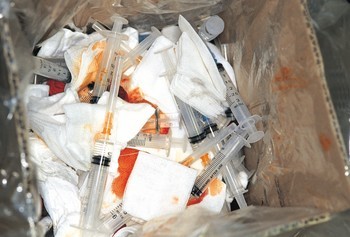 Classifying medical waste in hospital
Used items like plastic bottles and tubes that have not been in contact with germs or blood can be recycled, according to the meeting held to gather ideas for a new set of regulations on the disposal and treatment of medical waste.
Some of the officials present disagreed with the idea of recycling used items untainted by human tissue from infectious disease wards even though they are considered clean waste. Anything and everything thrown out from an infectious disease ward should be destroyed, in their opinion.
Deputy Minister of Health Nguyen Thi Xuyen said that the final draft of the regulations would not be ready until next month to allow more time to consult the experts.
For the sake of the community's health and the environment, the Health Ministry will thoroughly check the waste disposal process from classification to treatment, Ms Xuyen said.
Manufacturers that buy recycled medical waste should be appropriately certified and have the right equipment for cleaning the mainly plastic objects from the hospitals, she added.
Everyone present at the meeting agreed that the Ministry of Health had to maintain close control of the entire process.