Private construction work, transportation, and vehicle exhaust are the major causes of air pollution in Ho Chi Minh City, Mr. Nguyen Dinh Tuan, head of the city's Environmental Protection Department, told participants in a seminar on the effect of air pollution on human health.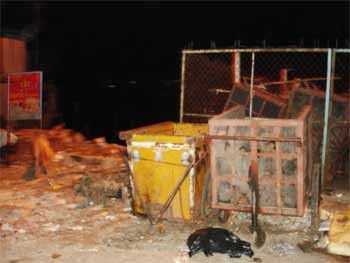 Bad environmental condition have effect on human health(Photo:U.Phuong)
A surge in the number of residents who suffer from respiratory diseases such as pneumonia and bronchitis suggests there is a link between concentrations of particles in the atmosphere and human health.

Air monitoring shows that the density of pollutants in the city's air, including particulates, nitrous oxide, benzene, and toluene, has doubled, Mr. Tuan said.

To address this situation, the Asia Development Bank and the Agency for Healthcare Research and Quality of United States has provided US$800,000 for a project on the effect of air pollution and poverty on the city's population.

Scientific evidence supplied by the project will provide a basis for city leaders to make policies and launch practical environmental protection campaigns, said Mr. Nguyen Thanh Tai, deputy chairman of the Municipal People's Committee, or city government.
The seminar was held on March 25 and sponsored by the city and the Ministry of Resources and Environment.
In Ha Noi, a survey of countryside sanitation revealed that the problem is quite serious. Only 18 percent of households, 12 percent of schools, and 37 medical clinics have toilets that adhere to the ministry's standards and unhygienic habits remain. Farmers still fertilize their vegetable fields with human feces in here and there in the country.
Exposure to unsanitary conditions has a deleterious effect on people's health, especially on children's growth, said Dr. Nguyen Huy Nga, head of the Preventative Health and Environment Department of the ministry of health. Unhygienic conditions also complicate the conditions of patients suffering cholera, dysentery, typhoid, hand-foot-mouth, and petechial fever.
Therefore, spending on healthcare services has increased and the government also pays for medical treatment. Hence, improved environmental conditions will benefit economic development. Spending US$1 on improving environmental conditions will save US$9 on medical treatment, education and other socio-economic expenditure.
Through the survey, officials from the Ministry of Health said that it is difficult to achieve its targets of 70 percent of households and 100 percent of schools and public places with suitable toilets by 2010.
The survey carried out in eight different ecological areas nationwide was released by MoH in coordination with the United Nations Children's Fund.