The recent development of dengue fever in people over 15 years of age is puzzling officials, reported local health centers.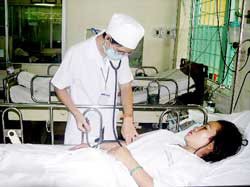 A dengue fever patient is treated in the HCMC Hospital for Tropical Diseases.
According to the statistics, the Ho Chi Minh City Hospital for Tropical Diseases has lately been receiving huge patient loads, with an average of around 70-100 dengue fever cases per week. This disease, which typically affects young children, is increasingly being diagnosed in adults.
Regardless of age, the hospital is not equipped to handle the numbers. Patients have had to share beds or stay temporarily in corridors.
According to Mr. Nguyen Dac Tho, Vice Director of the Preventive Health Center in HCMC, the risk of dengue fever is still high. The outbreak areas in the suburbs of the city are currently under control; however the districts in the inner city such as Binh Thanh, Tan Binh, Districts 8 and 11, and others are now reported as epidemic areas.
Around 300 dengue cases are being hospitalized every week for diagnosis in the city. The patients are mostly immigrants who come from other provinces and cities looking for work, and most are living in the slums. Since the beginning of the year, the epidemic has killed 6 including two adults.
The causes of the demographic change, from children to adults, have not yet been brought to light. However, scientists theorize the reasons may include a decline in general disease immunity within the community.
Symptoms of dengue fever can be more severe in adults than in children, and may include high fever, severe headaches, nausea, vomiting, bellyache, and diarrhea. Several serious clinical signs such as myocarditis, hepatitis, and bleeding in the digestive tract can occur among adult patients who have been infected by Type D dengue fever. Other symptoms may include a high level of ALT and AST liver enzymes, accompanied by low blood sugar and yellow skin.
The Steering Committee for Dengue Fever Protection asked the localities and health centers to help curb the spread of dengue fever by providing knowledge and education about the disease, transmission, and prevention to all people. The committee also mandates that people who have a fever come to health centers immediately for timely treatment.