According to a recent report of the Ministry of Health, so far 64 people have died of rabies and more than 175,000 people are currently being treated in some northern provinces.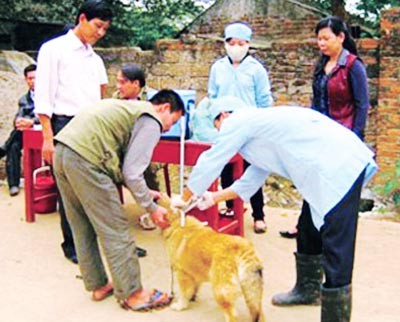 Local authority should enhance vaccination campaign on dogs to curb rabies (Photo: SGGP)
So far rabies has killed 64 people in the northern provinces of Son La, Phu Tho, Yen Bai, Hoa Binh, Dien Bien, Tuyen Quang and Hanoi and 175,000 people have received treatment for rabies this year.

The National Institute of Hygiene and Epidemiology (NIHE) said recently stray dogs and house-kept dogs in several districts in the North have bitten many people.

In 2012, Hanoi had no rabies fatalities, but in the last months 130 people having been bitten in Soc Son District. In Pho Yen District of Thai Nguyen Province, as many as 83 people have been bitten by stray dogs, and the situation is just as bad in Dai Tu District.

In Yen Bai Province, more than 2,500 people have been bitten by rabid dogs, with five fatalities.
Professor Nguyen Tran Hien, Director of NIHE, said that the country is possibly facing an outbreak of rabies because upto 64 people have already succumbed to the disease and 175,035 people have been attacked by rabid dogs.

Vets have taken samples for testing from rabid dogs and results show all samples positive for the rabies virus. The results in dog slaughter houses in Soc Son District are also positive.

The main reason for the wide outbreak of rabies is lax behavior of local authorities. The rate of vaccination on dogs is very low, about 30 percent in some districts and even as low as 10 percent in remote mountainous regions.

With widespread rabies and more victims, it is high time that local authorities act to control rabies and monitor stray dogs, to curb the disease.