The Ho Chi Minh City Department of Health said that two people, including a 10-year-old Korean girl and a Vietnamese woman arriving from Hong Kong at Tan Son Nhat International Airport with fever have tested negative for A/H1N1 flu.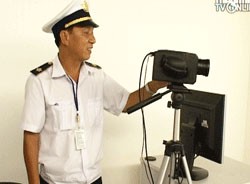 A staff at the quarantine center at HCM City airport checks a scanner that measures passengers' body temperatures (Photo: Thanh Nien)
By May 5 airport scanners had picked out 10 people with high temperatures but only one six-year-old girl and one adult had flu though they had virus A-H3 and not the A/H1N1 flu that threatens the world now.
In Hanoi, by May 5 around 40,000 people had arrived at Noi Bai International Airport since the flu alarm was sounded but there is just one operable heat scanner measuring body temperature after another broke down.
Between April 25 and May 5, the epidemic supervision system at Noi Bai recorded 20 people coming from Mexico, 1,814 from the US, and 248 from Canada.
Da Nang has two major entry points -- Da Nang Airport and Da Nang Port -- but the city just has one scanner, deputy director of the city's Department of Health, Nguyen Ut, said.
It is shuttled between the airport and the port when passengers arrive.
The north province of Quang Ninh has four border gates with China at Mong Cai, Hon Gai, Hoanh Mo, and Bac Phong Sinh.
Authorities there have recently bought a heat scanner.


The World Health Organization said by May 5, 21 countries said 1,124 cases had tested negative for influenza A/H1N1. Mexico, where 25 people have died so far, topped with 590 cases.

So far 286 people have been infected in the US, one fatally, 140 in Canada, and 54 in Spain.

Vietnam has yet to record its first case.