Another case of a young woman aging overnight has been reported in the central province of Quang Nam, the first being a 26-year-old woman from the southern province of Ben Tre who turned into an old woman in a matter of days.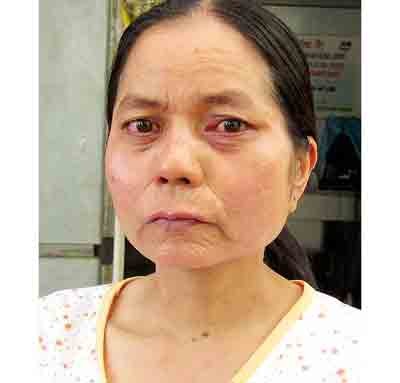 27 year old woman turning age overnight in the central province of Quang Nam needs help of medical experts (Photo: SGGP)
Nguyen Thi Ngoc Mai was born in 1984 in Hoi An town in the central province of Quang Nam. She is suffering from an undiagnosed skin disease in which she suddenly became wrinkled like a 60 year old woman, in the same way as 26-year-old Nguyen Thi Phuong did in the southern province of Ben Tre. Phuong's case was reported by the media only recently.
Mai said that she worried as she was as yet only 27 years old. On Thursday she hoped that the media would give coverage to her case and expected a lot of help from medical experts.
When Mai was just 12 years old, she noticed some red spots on her hand which itched all the time, and later these spots spread all over her body. Her face soon swelled up and then began to wrinkle and sag.
Her family took her to the Dermatology Hospital in Da Nang where doctors concluded she suffered nettle rash and gave her medicine for the same, but her condition continued to worsen. At the moment she looks 60 years old.
Because of her strange disease, she dropped out of school early. She got married in 2005 and has two children. However, her health is deteriorating day by day and her husband is also ailing, which makes their family life even more difficult.
Related article:
HCMC doctors to treat young woman with peculiar skin disease