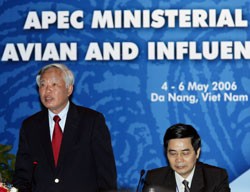 Vietnamese Deputy Prime Minister Vu Khoan (L) delivers an opening speech at the APEC ministerial meeting on bird flu (AFP Photo)
The Asia Pacific Economic Cooperation (APEC) meeting agreed on an action plan to respond to a potential human outbreak in one of the group's 21 members -- and to help its societies and economies cope and recover.
"We are living in an increasingly globalised world," said Vietnam's Deputy Prime Minister Vu Khoan, opening the meeting.
"The epidemic has quickly spread from Asia to Europe, the Middle East and Africa, and I am afraid it's very hard for America to avoid being affected."
Member countries committed to promptly report all human and animal outbreaks, share data on the virus, jointly test emergency responses and assure speedy access to medicines during a pandemic.
To ready for a major outbreak, members said they would pre-authorise visas and customs clearance for WHO rapid response teams, and would encourage companies and state agencies to approve "business continuity plans."
Klaus Rohland, the World Bank's Viet Nam country director, said "fighting avian flu is something like a global public good, something that you have to do in the interest of mankind.
"There is often discussion on whether development assistance is charity or altruistic, but clearly in the case of avian flu this is in everyone's interest, to fight and contain the disease at source."
The spread of the disease has gathered pace this year, warned Tran Trong Toan, head of the APEC secretariat of the three-day meeting of health and agriculture ministers and officials in the central city of Danang.
"In the period of 2003-2005, avian influenza was discovered in just 15 countries and regions, but in the first five months of 2006, there were 30 additional countries and regions affected with this deadly virus," he said.
Experts fear H5N1 could mutate to become highly contagious among people, sparking a global pandemic like the three waves of flu that killed millions in the 20th century.
The first major flu pandemic of the 21st century could be exacerbated by more air travel and trade, experts say, but also mitigated by better drugs and medical expertise.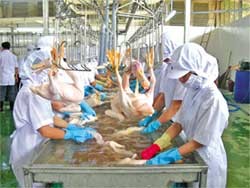 Viet Nam is praised at the meeting for bringing the virus under control.
In the action plan, members also agreed to reform live poultry markets, and adopt science-based standards for international trade to protect poultry exporting economies from unfounded bans.
And they said they would "develop information exchange on management of travellers to increases transparency and minimise risk to travel and trade."
"We are looking at the issues of trade and travel, knowing that it is in everyone's interest to keep this world economy going, to keep people travelling," said John Lange, the US State Department's top bird flu official.
"But there may have to be some constraints placed all around the world when a pandemic strikes, if one does strike. So, basically we set the framework for decision-making, other decisions come later on."
AFP-SGGP