With the number of swine-flu cases rising, medical workers will treat patients at their homes, Dr Ly Ngoc Kinh, head of the Ministry of Health's Treatment Management Department, told the media on August 3.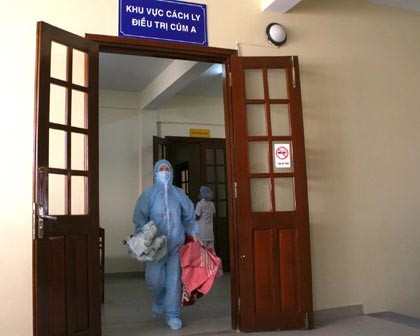 The quarantine area for A/H1N1 patients at Hue's Central Hospital (Photo: Lao Dong)
Reporter: Hospitals face difficulty in isolating H1N1 patients because of the increase in the number of people with the flu. When will the Ministry of Health begin to quarantine people at home?
Dr Kinh: Patients without severe symptoms of the flu can quarantine themselves at home under the supervision of local health centers. And medical staff will check them every day or every other day.
Q: What should patients do when quarantined at home?
A: They should take Tamiflu only under the direction of doctors and not self-medicate.
Q: If patients are quarantined at home, is it necessary to set up makeshift hospitals?
A: Because of the complexity of the outbreak, setting up these hospitals is necessary.
The health ministry will increase the number of makeshift hospitals and spell out norms and regulations for their establishment.
For instance, if H1N1 flu is discovered at an office or a school, a makeshift hospital will be established at that location to prevent the flu from spreading.
Q: The number of H1N1 patients is increasing every day. Do you have any suggestions for people?
A:  People should be calm to cope with the epidemic. It has spread in Vietnam but there are no deaths yet, and many patients have recovered.
However, people should not be complacent and should wear masks at crowded places like aircraft and trains.


Free consultancy on A/H1N1
The Ho Chi Minh City Department of Health, the Health Information and Education Center, and Saigon Telecom Services Company are providing free consultancy about the flu over telephone at 1089.

The center's consultants will answer questions from 7h30 to 22h daily.

The Ministry of Health announced August 3 that 35 more people have contracted A/H1N1, taking the tally in Vietnam to 971. There have been any deaths.