The Japanese Business Association of Ho Chi Minh City (JBAH) has offered the Ho Chi Minh City Sponsorship Association for Poor Patients US$38,000, which was collected from a charity fair held by JBAH.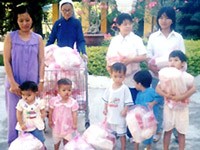 Harelip and cleft palate children need the help of our community
The sponsorship association gave the money to Children Hospital No 1, Children Hospital No 2, Hospital of Trauma and Orthopaedics and Teeth-Jaw-Face Hospital to provide treatment for burns, eye surgery, back-bone sequalae and poor children's harelip and cleft palate.
In the past 10 years, JBHA has donated USD265,000 collected from charity fairs to the association, bringing smiles to thousands of handicapped children.