The information was released at a yesterday meeting between the Vietnam Association of Diabetes and Endocrinology and Sanofi Vietnam to sign a training cooperation program to improve diabetes treatment quality and training program to benefit diabetics.

Deputy Health Minister Nguyen Truong Son said at the meeting that dramatic increase in the number of diabetics are so worse in many countries in the world that the World Health Organization has considered it as an epidemic of the modern time.
Amongst the countries, the Southeast Asian nation ranks into groups with most diabetics.
More critically, the ailment is causing serious complications that threaten patients' lives and put a burden on patients.
Chairman of Vietnam Association of Diabetes and Endocrinology Dr. Thai Hong Quang said that more than 3.5 million Vietnamese people suffer from diabetes and 80 of them die of diabetic-related complications daily.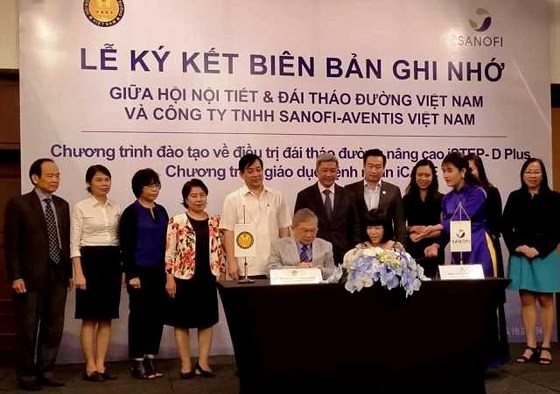 At the signing ceremony (Photo: SGGP)
Though the number of diabetics is surging drastically countrywide, 63 percent of them have not been diagnosed and received treatment while 70 percent of patients having diabetes type 2 have not been receiving proper treatment.
Accordingly, Dr. Quang said that training cooperation program between the Association and Sanofi will improve treatment quality. It will be carried out in the year with three phases. More than 2,200 physicians will be trained as per the program.