Nearly two months after hospitals signed a joint commitment to improve health workers' attitude towards patients, many patients have expressed their satisfaction with the services they received.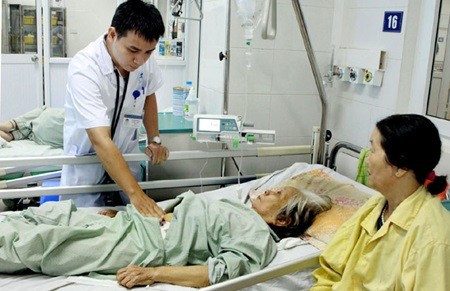 A doctor gives check-up for patients at Ha Noi's Saint Paul Hospital. Health workers' attitude towards patients have been improved after many hospitals committed to improve their services two months ago. — VNA/VNS Photo Duong Ngoc
Trinh Hong Minh, a resident from northern Thai Nguyen Province, said the National Hospital of Paediatrics in Ha Noi was overly crowded when she took her baby there for an examination one month ago.
She said a health worker shouted at her when she tried to ask about the examination process. But since then, she has noticed some improvements to the facility.
"Both doctors and volunteers are helpful to me," she told Nong thon Ngay Nay (Countryside Today). "After examining my baby, the doctors advised me on how to take care of the baby and how to take the pills properly."
National Hospital of Paediatrics is among 18 hospitals including Bach Mai, Viet Duc and the National Cancer Hospital that have signed a commitment to improve health workers' attitudes towards patients.
Le Thanh Hai, director of the National Hospital of Paediatrics, said the hospital would not only change its behaviour toward patients, but also continue to improve the quality of examinations and treatment in order to shorten patients' stays. It had also set up two units supporting patients and their relatives.
Le Xuan Tien, 77, who lives in northern Thanh Hoa Province, said he was satisfied with the service at Viet Duc Hospital.
After his examination, the doctors diagnosed him with an abdominal aortic aneurysm and asked him to be hospitalised, he said.
"We finished all the procedures without difficulty, despite the fact that this is the first time we arrived at the hospital," he said.
Le Ngoc Thanh, director of E Hospital, which signed the commitment with the Health Ministry, said the hospital had trained its staff on communication skills and attitudes toward patients.
However, he said it was difficult to ensure that patients were completely satisfied with health workers' manners.
"The improvement of health workers' attitudes toward patients takes time," he said. "In addition, it's difficult for patients to be satisfied with health workers' behaviour if the hospital is overloaded with patients."
Nguyen Viet Tien, deputy minister of health, agreed with Thanh, stating that health workers should have more time to practise and adapt to the goals they pledged to meet.
A survey sponsored by the World Bank found that 42.5 per cent of people interviewed were not satisfied with health workers' attitude at hospitals in Vinh Phuc, Phu Tho, Thanh Hoa and Binh Dinh provinces between 2014-15. The survey interviewed more than 5,400 individuals, businesses and organisations in the four provinces.
Less than half of the patients in those hospitals said drinking water was available, but 70 per cent were satisfied with the situation.
Pham Van Tac, head of the personnel department within the Ministry of Health, said all hospitals nationwide would sign the commitment to improve patients' satisfaction by the end of next year.