After finding some traders in Hanoi using acid to bleach dark-colored eggs imported from China to sell them as free-range eggs, health agencies are expanding their investigation to find out the extent of the scandal.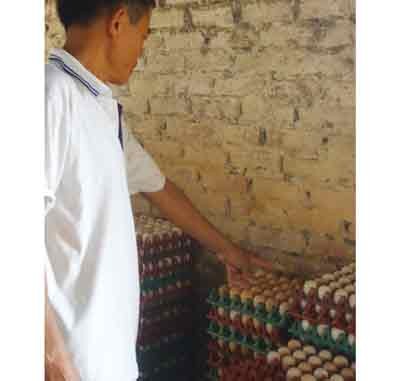 Vietnamese farmers suffer big losses as imported eggs have been bleached to turn into Vietnamese garden eggs, causing in customers' turnback to eggs for fearing to eat toxican eggs (Photo: SGGP)
After the scandal was discovered two weeks ago, customers are afraid and demand for eggs has fallen sharply.
Thousands of poultry farmers in Hanoi's Chuong My and Dong Anh Districts are in despair as people are wary of taking chances.
Do Van Lung, who breeds over 3,000 Egyptian and Phuong Hoang chicken in Chuong My, said he has suffered huge losses since egg prices plummeted last week.
Fertile Egyptian and Phuong Hoang eggs, which cost VND2,400 and VND3,000, now fetch just VND2,000 and VND2,500 respectively.
Even the price of duck eggs has fallen from VND1,800 to VND1,300. Lung estimates his loss at VND300,000 a day.
Nguyen Thu, owner of a farm with more than 6,000 birds, said traders are offering prices that are 70- 80 per cent lower than normal.
A deputy director of the Hanoi Department of Agriculture and Rural Development, Dao Duy Tam, said customers prefer Vietnamese free-range eggs and unscrupulous traders have taken advantage of this.
Ho Chi Minh City health inspectors detected bleached eggs in markets on Monday. They seized five of them from a street vendor outside Hoa Binh market in District 5. The vendor told them the eggs were from the Mekong delta province of Tien Giang.

Related article:
Hanoi health inspectors seize bleached eggs, suspend business