Though only one death has been reported from swine flu so far, health officials are worried about the approach of winter since flu viruses thrive in lower temperatures.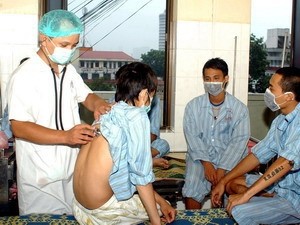 A doctor examines people with swine flu at a hospital in Hanoi. Officials are worried the flu could become a pandemic with the onset of winter (Photo: VNA)
The beginning of the new school year in mid-August poses another problem since children, among the vulnerable groups, will gather in large numbers.
The Ministry of Health reported 43 infections on August 9, taking the tally in Vietnam so far to 1,258. Of them, 635 people have recovered and left hospitals, while the remaining are in stable condition.
The disease has spread to the Central Highlands where authorities have implemented preventive measures.
The Lam Dong Province Department of Education and Training has disinfected schools while the University of Da Lat has set up a steering board to combat the flu.
Preventive health agencies in the provinces of Dac Nong, Dac Lac, and Gia Lai have advised and provided training to students and teaching staff.