Every day, tons of vegetables and fruits pass through Vietnam-China border gates but most of these vegetables and fruits do not undergo any food hygiene checks.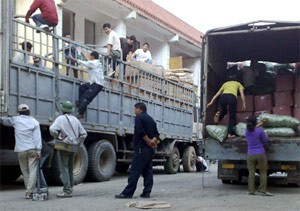 Vegetables loaded on trucks at Po Chai market in China for transport to Vietnam (Photo: Tuoi Tre)
Minister of Agriculture and Rural Development Cao Duc Phat has ordered the Plant Protection Department to begin examining the fresh produce brought in through the border gates. The results of the checks are to be reported directly to the minister.
The Plant Protection Department under the agriculture ministry and the Quality Management Department under the Ministry of Health will inspect vegetable businesses at markets in Ha Noi and the border province of Lang Son.
Trinh Cong Toan, chief of the Plant Protection Department, said yesterday more than 20 kind of vegetables and fruits had already been examined. The results of the inspections will announced at the end of this week.
According to a representative of the market management agency in the border province of Lao Cai, the amount of vegetables and fruits imported from China has increased sharply recently. "We can see more than one hundred tons of vegetables and fruits going through the border gates here and more than 10 tons of vegetables imported through Lang Son border gates every day," he said.
At present, most imported vegetables are only checked for insect pests, not pesticide residues, the market management official said.
Fresh produce from China has been pouring into Vietnam after the historic floods in Hanoi and northern provinces earlier this month wiped out local crops.
Nguyen Cong Khan, director of Department of Food Safety, said his department would coordinate with the Ministry of Health, the Ministry of Industry and Trade, and the agriculture ministry to inspect the imported produce.
The interdepartmental taskforce will report to the government about the quality of vegetables and fruits imported from China and propose a new system to monitor imports of fresh produce.