The number of Vietnamese children with autism is on the increase, said experts at a meeting held in Ha Noi on March 30 in response to the "World Autism Awareness Day" (April 2).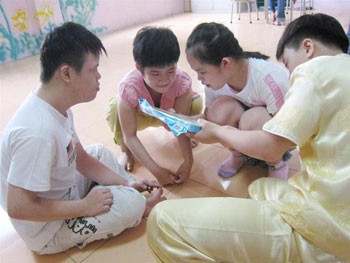 Austitic children at Sao Mai center where to treat such children
According to these experts, children with autism are those who face difficulties in learning language and mobility and suffer behavioural gender disorders, anxiety and stress.
The number of such children seeking therapy and physical rehabilitation at the Ha Noi-based National Paediatrics Hospital has tripled in recent years, they said.
Viet Nam  has now only a few private or non-governmental humanitarian centres giving consultancies to such children, the meeting said.
The meeting took the opportunity to call for adults' attention to children's proper development.