A seminar entitled "How to push people to actively prevent the avian and human flu pandemic" was held in Ha Noi on 15 December by the Viet Nam Red Cross with the participation of scientists, doctors, professors and experienced people.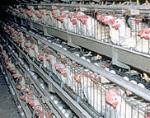 A standard farm helps avoid bird flu on Human
At the end of the seminar, the Head of Health Care Service of Red Cross Viet Nam Dr. Tran Thu Thuy said various folk experiences applied in the community and have moved effective and been scientifically verified. First, breeding facilities should be located from houses and water supply and are cleaned with antiseptic substances or the mixture of powered lime, soot and smashed china leaves.
In winter, it is necessary to keep breeding facilities by guarding the draught on burning berry leaves, vegetable attar. Also it is necessary to clean food remains and waste, and to scatter limes on dung holes and then fill it.
After the seminar, these experiences will be compiled into a book to deliver to people in remote regions. Besides that it can become rules of anti-epidemic in the community