Vietnamese authorities today launched an integrated package of activities, funded by the US Agency for International Development (USAID), to prevent and control avian flu and human cases of H5N1 in the northern province of Ha Nam.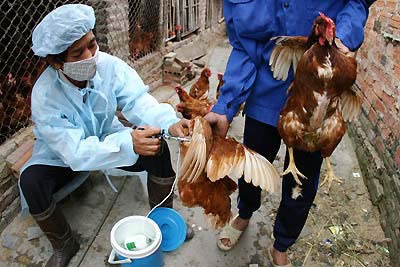 Animal health workers will be trained on avian flu prevention and control
The Ha Nam workshop gathered senior officials from the provincial and district Peoples' Committees, Department of Animal Health, Department of Health, Department of Livestock Production, and USAID and its partners. 
One of five USAID-supported provinces in Vietnam, along with Hung Yen, Quang Tri, Can Tho and Kien Giang, Ha Nam has experienced eight avian influenza outbreaks in the past two years.
Located near the capital, Hanoi, Ha Nam has a large poultry market with many small commercial poultry farms and a bustling poultry trade. Many commune-based animal health workers and local officials have also not been formally trained to prevent avian flu.
Partners will train animal health workers, commune authorities, farmers and their farmhands, traders and transporters and small commercial poultry farmers on avian flu prevention and control.
District authorities will gain new skills in epidemiology and active surveillance and provincial health officers will receive training in pandemic preparation and planning. Officials will launch communication activities to increase public awareness of the disease and the possibility of humans contracting H5N1.
Vietnam is one of the countries most affected by the highly pathogenic avian influenza, caused by the H5N1 virus. Since 2005, the country has suffered millions of dollars in economic losses due to H5N1 outbreaks in poultry. 
Although government leadership has been successful in significantly reducing the number of outbreaks, the virus is endemic in the country's poultry population.
Since 2005, the US government, through USAID, has provided $27.5 million for avian influenza prevention and controls in Vietnam. This includes a new two-year provincial level research project to identify best practices and policy guidance on safe, effective, and sustainable poultry vaccination to limit transmission.