Doctors at Ho Chi Minh City Children's Hospital 1 saved an infant from serious dengue fever, the hospital announced on July 7.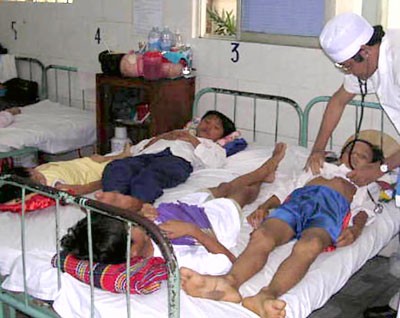 So many children are suffering from dengue fever that two or three must share one bed (Photo; SGGP)
N.K.D – a six-and-a-half-month-old girl living from Cu Chi District, Ho Chi Minh City – was admitted to the hospital presenting symptoms of high fever, a runny nose, cough, vomiting blood and turning blue.
The disease became complex, as the child caught pneumonia, had a clotted blood disorder and digestive hemorrhage.
After various treatment, she began to recover and was able to drink some milk.
Earlier, the hospital had also successfully saved a six-year-old child with dengue fever and bleeding stools.
According to specialists, parents are easily off-guard, as symptoms of dengue fever are similar with those of respiratory inflammation or digestive disorders, thus many take children to the hospital too late.
Le Thi Thom, a mother of an eight-year-old boy with dengue fever being treated at Soc Trang General Hospital said that she did not think he had the disease.
She believed he had a simple fever and would become better after a few days. Only after taking him to the hospital did she discover the truth.
At the moment in the Mekong River Delta, dengue fever outbreaks have led to a higher rate of deaths.
Cases of the disease have increased by 20 to 80 percent in the Mekong Delta provinces of Vinh Long, Hau Giang, An Giang, Tra Vinh, and especially the Soc Trang, where there are now more than 2,000 cases and five deaths.
Dengue fever cases increased rapidly in May and June, with more than 100 cases per week, 30 percent of which are in a serious condition.
Most children that catch the disease are between six and 15 years of age. 
They do not normally sleep under a mosquito net and their parents lack basic knowledge of the disease.
The situation had been made worse, as regulations that stipulate any dengue fever related deaths have to have blood checked, to prevent similar situations in the future, have not been followed in local health clinics due to shortage of funds and lack of care.

Related articles:
HCM City grapples with dengue outbreaks

Outbreaks of dengue fever may become worse later 2009