On March 23, doctors at the Quang Ngai General Hospital performed an operation to deliver a baby born with its heart outside its chest, said Dr. Tran Ba Tin, head of the Hospital's Obstetrics Department,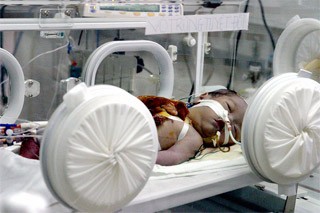 The baby was at the hospital after the surgery
The medical crew delivered the 2.8kg girl to her mother, a 33-year-old Le Thi Dao from Tu Nghia District and reported that the child was in stable condition after the surgery.
Her condition began to deteriorate after that however, and she was taken to the Cardiovascular Centre at the Central Hue Hospital on March 24 in critical condition.
The following day, a team of surgeons led by Dr. Bui Duc Phu (the hospital's acting Director) carried out a four-hour operation to open the girl's chest and put her heart in the right place. According to hospital officials, the newborn was doing well after the surgery.
This is the first time in thirty years that such a case has occurred in Viet Nam.