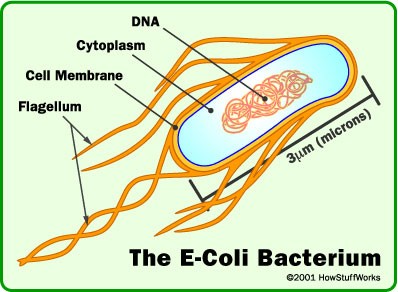 E.coli bacterium
An eight-month-old baby died of digestive infection caused by E.Coli resistant bacterium on June 2 at the Children Hospital in Can Tho City in the Mekong Delta, the hospital announced on June 3.
Do Quoc Huy, the eight-month-old baby from O Mon District of Can Tho City died on the third day of hospitalization.
His death brings the toll due to E.Coli resistant bacterium in Children Hospital in Can Tho City to two within a matter of 10 days.
The first baby, one-year-old Vo Duy Khang from Thoi Lai District of Can Tho City, died of the bacterium on May 24.
The hospital said it had been treating many toddlers suffering from diarrhea with E. Coli bacterium. Six-month-old Dang Ngoc Huy was off the danger list after experiencing diarrhea.
Dr. Tran Van De, deputy director of the hospital, said child patients under five contracting E.Coli bacteria will suffer fever, vomiting and severe diarrhea, hence parents should take them to hospitals as soon as possible for timely treatment.