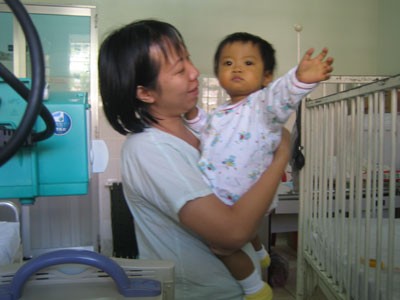 The 16-month-old baby transplanted liver at the hospital with her mother, the donor
Belgian surgeons and doctors at Ho Chi Minh City's Pediatrics Hospital 2 performed the seventh-ever liver transplant done in the city on a year-old child from District 6 on November 7.
A piece of liver was taken from the girl's mother for the transplant.
The child, Tang Ngoc My, had undergone a Kasai procedure when she was two months old after being diagnosed with biliary atresia, a condition caused by the blockage or absence of the common bile duct between the liver and small intestine.
But the duct then became infected and she developed cirrhosis. Her condition was reportedly worsening before the latest operation.
She weighed just 7.1 kilograms and doctors said her malnourished state made the surgery riskier.
The hospital did not charge the child's family the cost of the surgery which normally costs around VND250 million (US$13,500).