Health authorities in the southern province of Ben Tre are trying to establish the source of HIV infection in 12 residents of Phu Dang Hamlet in Ngai Dang Commune of Mo Cay Nam District.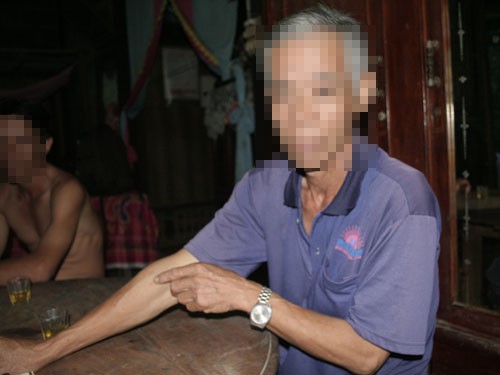 An infected HIV man in Mo Cay Nam District in Ben Tre Province pointing at an injection received from Be, the local practitioner
The People's Committee of Ben Tre Province released this information at a press conference on May 31.
Nguyen Van Nghia, deputy chairman of the People's Committee has ordered the provincial health sector to take assistance from the HCMC Pasteur Institute and the Vietnam Administration of HIV/AIDS Control to identify the cause of HIV infection in 12 residents in the province who are between the ages of 30-60.
 
The police will also help in identifying the source of the infection in a bid to calm the local people and contain all kinds of rumours from spreading.
Medical workers are also working to educate people on how to use preventive measures to remain free from the disease.
Nghia said that such a situation has never occurred before in the province, hence it is causing greater concern amongst the public as well as doubts among relatives of patients.
The first HIV infected patient in the hamlet had arrived at Binh Dan Hospital in Ho Chi Minh City for kidney treatment and while undergoing checks doctors found he was infected with HIV disease as well.
After this news spread, many local men had their blood tested and 11 of them were found to be infected with the fatal disease, although their lifestyles were healthy.
All the 12 patients said that they like others in the hamlet, had previously been treated by 62-year-old Do Van Be, a retired physician engaged in medical practice but without a practitioner's license.
When asked, Be said he adhered to the principle of using disposable needles for injections, so the chance of HIV transmission through infected needles could be ruled out. Moreover, many men, women and children have been treated by Be, but so far only the men have been found with the HIV virus.
Meanwhile, many local residents are wary of getting tested and fret about the actual number of people infected in the hamlet.
The provincial Health Department is investigating the cause of the infection and has given instructions to patients and their relatives on how to take care of people with HIV and how to prevent the spread of the virus to others.