Tet holidays (the Lunar New Year) is coming and thousands of people head homeland to reunite with their relative in special holidays, many kids in distant provinces have to stay in hospitals such as Children Hospitals No.2 and Tumor Hospital in Ho Chi Minh City for treatment; accordingly, young volunteers and benefactors organized festivals to bring "spring" to them with all love.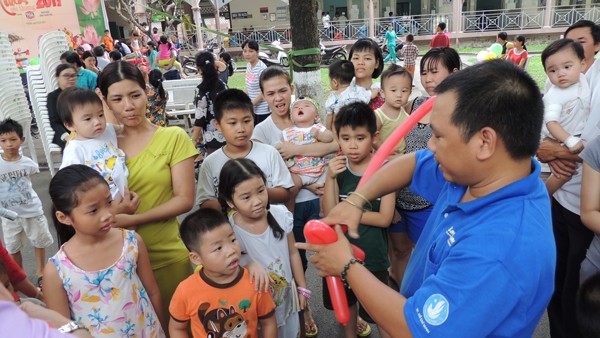 Photo: SGGP
Pushing his face towards the stage for musical program "Xuan yeu thuong"( Loving Spring), safe guard of Children Hospital No.2 Trinh Ba Lam said that kids insisted their parents taking them to the stage, many of them having to bring along the pole to hang bottles of medicine being transfused into their veins.

No cries because of pain or tired faces but instead, faces radiant with smiles are seen in the hospitals' premise because they all received gifts and enjoyed musical performance.  It seemed that they forgot the pains to listen to music and their feet marched in time to the music and head nodded rhythmically.

Leading her son by hand to the stage, Ms. Nguyen Ngoc Phuong in the southern province of Dong Nai said that for a long time, her son smiled again adding that this is the third Tet holidays she had to stay in hospital for his son's treatment.

Presenting 170 gifts including cakes and sweets and cash of VND500,000 to kid patients in Children Hospital, general director of TOA Paint Vietnam Udom Parichartwutthikul said that he visited the hospital for three successive Tet holidays to give gifts with the hope to comfort them during the prolonged treatment to reunite with relatives.

For these days, many benefactors dropped by the hospitals to present gifts as well as organized activities. Little patients were also entertained with songs and games by the young volunteers. The hospital also handed out gifts to these little patients.

This year, around 200 kids had to stay the Tumor Hospital and 200 kids received gifts and VND500,000 of cash. Additionally, 10 buses will carry 400 patients in the central, highlands and Mekong delta provinces return home for free.