Large livestock farms in Ho Chi Minh City should increase, not reduce, their stock of fertile pigs for later use after the danger of blue ear disease has passed, a senior official said.
The statement came even as the Porcine Reproductive and Respiratory Syndrome Virus (PRRSV) - also known as blue ear disease – hit pigs heavily in neighboring provinces as well as the districts of Binh Chanh, Cu Chi, 9 and 12.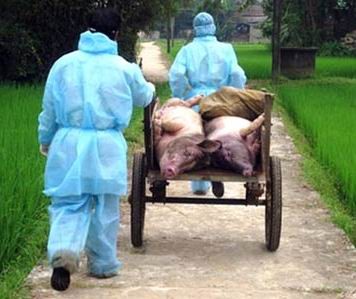 Vets  take dead pigs to bury in the central province of Quang Nam
Due to the serious outbreak of the blue ear pandemic in southern provinces and the threat posed to other provinces, city People's Committee deputy chairman Nguyen Trung Tin instructed relevant agencies to ensure the safety of herds of over 30,000 fertile pigs in big farms.

However, Mr. Tin also said that governments should not let small household farms engage in breeding and selling pigs.
The city's Department of Animal Health reported that 29 slaughter houses butchers over 7,500 pigs a night but only 1,000 come from farms in the city.

The remaining come from southern provinces including Dong Nai, Ba Ria – Vung Tau, Long An and Tien Giang, all of which have announced severe epidemics of the blue ear disease.
Moreover, tests of pigs in slaughterhouses have shown that 70 percent of pigs in southern provinces are positive for the dangerous virus. The city is therefore at high risk of suffering a severe epidemic as well. Vets in the outlying districts of 9, 12, Binh Chanh and Cu Chi have decided to immediately kill diseased pigs on detection to curb spreading.
Meanwhile, Van Duc Muoi, General Director of Vissan, a major producer and trader in processed meat, fresh frozen meat and meat-related foods, expressed concern that consumers would turn their backs on safe pork because of wrong information about the disease.
The disease is not believed to be transmittable to humans.
Markets in the city and other localities have seen housewives opting to buy fish and poultry instead of pork, local reports say.
Meanwhile, enterprises who'd pledged to keep the prices stable until next March fretted that the reduced supply of pork would push up prices in the upcoming lunar new year season.

Vissan said it has taken proactive steps to buy more pigs for stockpiling, from 2,200 to 2,800 pigs a day, as instructed by city People's Committee Chairman Le Hoang Quan.
Chairman Quan has asked lower level administrations to raise public awareness about the disease as well as prepare herds of safe fertile pigs for breeding after the danger has passed.

Fresh outbreaks of blue ear disease at the Co Do Agriculture Company in Mekong Delta City of Can Tho's Co Do District have so far infected 108 pigs, the Department of Animal Health reported on August 16, bringing the number of affected provinces in Vietnam to 22. The disease has spread widely in central and southern Vietnam.

The southern province of Ba Ria – Vung Tau has seen two further outbreaks in districts Xuyen Moc and Dat Do while the central province of Nghe An has reported a fresh outbreaks in district Dien Chau. Nghe An has so far killed 7,379 pigs with the disease.

The southern province of Tay Ninh has reported new outbreaks in the districts of Go Dau, Tan Bien, Tan Chau, Ben Cau, Duong Minh Chau and Hoa Thanh that have infected a total of 12,911 pigs.