The threat of the A/H1N1 flu virus entering Vietnam is extremely high as the Southeast Asian country receives tens of thousands of visitors from all over the world every day, said a medical official on May 6.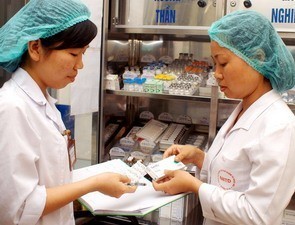 Medical workers check the quantity of flu drugs in stock
Head of the Department of Preventive Medicine and Environment, Nguyen Huy Nga, gave the warning at a conference convened by the National Steering Committee on Influenza in Humans.
The official reported that the nearly 18,000 visitors who have entered the country through 10 border gates and airports have all been monitored and two of them were found with high temperatures and subsequently quarantined until the final test results are available.
Vietnam has applied emergency measures to prevent the epidemic from reaching its shores, said Nga, adding that by 17hrs on May 6, the country had still not detected any cases of the flu virus A/H1N1.
To effectively prevent an epidemic, the Health Ministry has been holding training courses for local medical workers in all 63 provinces and cities.
The ministry has also entrusted local preventive medical centres and hospitals to keep a close watch 24 hours a day to promptly discover and deal with any cases of the killer flu.