Health authorities in Binh Dinh Province on March 2 reported the first death caused by hand-foot-mouth disease in the province this year.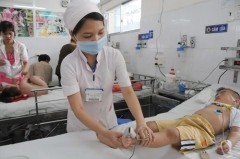 Children with the hand, foot and mouth disease treated at the Pediatrics Hospital I in Ho Chi Minh City last year  (Photo: Tuoi Tre)
Two-year-old Dinh Thi Chau, from Con Lot village of Canh Lien Commune in Van Canh District of Binh Dinh Province, succumbed to the disease after one week of treatment.
Chau had been suffering high fever and rashes on her bottom for the last one week. She was admitted to the Van Canh District Health Clinic, from where doctors wanted her transferred to a bigger facility. However, she deteriorated rapidly and succumbed to the disease.
According to the health department, the Pasteur Institute in Nha Trang City yesterday confirmed that samples taken from Chau had tested positive of Enterovirus 71 that caused the hand-foot-mouth disease.