People's Committee in the southern province of Binh Phuoc yesterday decided to announce diphtheria epidemic in district Dong Phu.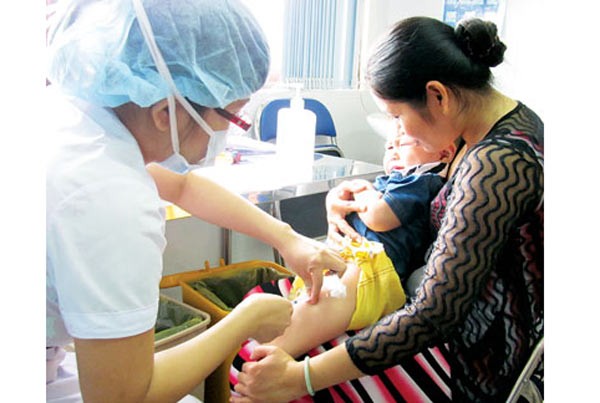 Binh Phuoc Health Authority will administer vaccine against diptheria for inhabitants (Photo: SGGP)
The disease is caused by a type of bacteria called Corynebacterium diphtheria, spreading through person-to-person contact or through contact with objects that have the bacteria on them, such as a cup or used tissue.
Head of the Department of Health in Binh Phuoc Province Dr. Nguyen Dong Thong said that from June 24 to July 14, 47 inhabitants in two communes Thuan Loi and Thuan Phu have diphtheria including three deaths, six people discharged from hospitals and 38 others are monitored in district medical clinics. Of them, four are positive for the diphtheria bacterium.
Dong Phu District reported additional 10 cases of diphtheria on July 13 and more people are expected to have the disease.
Ho Chi Minh City-based Pasteur Institute tested 36 samples and found four of them positive for the bacteria to cause diphtheria. The institute warned of more people having the disease if it is not under close monitor and full vaccination.
In its decision, the People's Committee asked the health sector in the province to keep a close watch over on cases of diphtheria and spraying the infected residential quarters with disinfectants, get people to take antibiotic and immune kids from one year old to adult at the age of 25.
Additionally, People's Committee ordered medical clinics and the General Hospital in the province to admit and isolate patients from infected district.
Before, the People's Committee, the Steering Board of Contagious Prevention and related agencies were ordered to actively adopt measures against the disease in two affected communes. Health sector must implement all measures to curb spreading and reduce the cases of infections and deaths. Moreover, the sector must prepare full medical equipment, medications and necessary chemicals as well as give residents full vaccination against diphtheria.
People's Committee and the Department of Health should be official speaker of the disease who will provide exact information of the disease development and prevention task in a bid to stop inaccurate words about the disease.
According to the health sector, some people who are fully immunized still die of the disease because their body do not produce antibodies. Most of people die because the diphtheria toxin may spread through a person's bloodstream and damage other tissues in their body, such as their heart muscle, causing such complications as inflammation of the heart muscle (myocarditis). Accordingly people must strictly follow the sector's guidance of treatment and isolation
People should wear mask when contacting affected people and take drug to prevent spreading. Anyone who have slight fever, sore throat and tonsil must go to nearby medical clinics for timely treatment.