The risk of bird flu outbreak is not only threatening eight northern and central provinces, but southern provinces in the Mekong Delta as well, deputy minister of the Ministry of Agriculture and Rural Development Bui Ba Tong told Sai Gon Giai Phong Newspaper's reporter yesterday.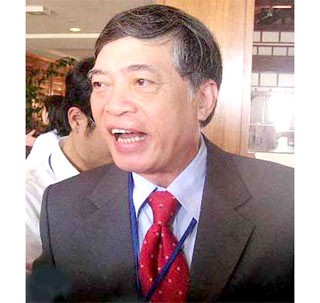 Mr. Bui Ba Tong
Deputy minister Tong said the bird flu might recur in the eight provinces of Nghe An, Ha Tay, Hai Duong, Hung Yen, Thai Binh, Nam Dinh, Thanh Hoa and Ha Tinh because they accidentally imported infected poultry from Ha Tay Province and haven't conformed to the ministry's regulations in incubation, breeding and vaccination.

Mr. Tong attributed the reason for the high recurrence rate of bird flu in the Mekong Delta to breeding ducks freely on fields after the summer-autumn harvests.

He said that most farming and incubation units are small, operate individually and don't conform to regulations on animal hygiene.
They also don't register their operations so that veterinary agencies can't monitor sources of breeding eggs, he added.

The deputy minister warned that many eggs without clear origins from the northern province of Lang Son are presently incubated at many farms.

Related agents and authorities should cooperate to closely monitor operations and transportation by poultry farms to prevent bird flu epidemics.