Fresh outbreaks of bird flu have occurred among poultry flocks in the central province of Nghe An, local authorities announced yesterday.
The pandemic has killed nearly 1,000 birds in Dien Hong Commune, Dien Chau District. Tests showed the ducklings to be positive for the H5N1 strain of the virus.
Health workers subsequently slaughtered all the birds on the farm and sterilized the place.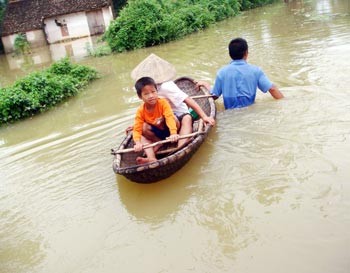 The recent flooding in Ha Noi triggers the outbreaks of some diseases (Photo:SGGP)
To contain the disease, inspectors have set up control units to prevent water fowls from being transported to other provinces.
The Ministry of Agriculture and Rural Development announced the same day that foot-and-mouth disease has broken out among cattle in the northern mountain province of Yen Bai.
Six communes in Van Chan District have reported that 75 animals have contracted the disease.
Two provinces have so far reported infection among animals -- Yen Bai and the central province of Quang Binh -- and local authorities have been instructed to contain the epidemic.
Flood fears


The recent flooding in Ha Noi - four wards in Thanh Oai District are still submerged -- is conducive to the spread of diseases. Doctors from the city Department of Health yesterday toured the capital to look for epidemic outbreaks in the aftermath.
Thanh Oai medical workers have reported 89 cases of acute diarrhea, 1,057 patients with skin diseases, and 38 with eye problems.
Dong Da Hospital reported an increase in the number of patients with dengue, eye problems, and skin diseases since the beginning of this month.
Faced with the risk of disease outbreaks in flooded areas, Dr. Nguyen Huy Nga, who heads the Department of Preventative Health, asked medical workers to guide people in protecting themselves.